A Helping Hand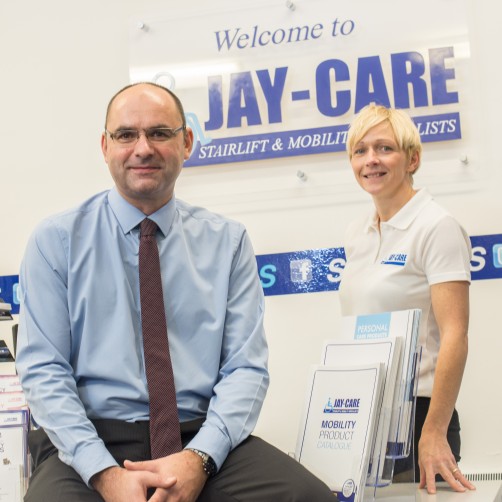 A Burnley business is proving it pays to care - as it celebrates 10 years in business this year. Jay-Care Mobility Specialists, based at Keirby Walk, Burnley, is one of the few companies who genuinely put their customer above all else.
Owner and founder Paul Anderson, who has worked in the industry for 30 years in April, said: "We are a caring, can-do company. Nothing is too much trouble. We pride ourselves on our level of customer care. "Going to work is never a chore. I love what I do and every day me and the team help to solve major issues for clients.
"You can't replicate the feeling you get when you see someone with mobility issues regain some level of independence.
"Likewise, selling and installing a stairlift can change a customer's entire life."
Paul said the target audience is not the over 55s as most people would imagine. It is everyone, disability has no boundaries, sadly it can affect us all whatever our age.
Industry figures reveal that over 75 per cent of items are purchased by a family member in a domestic setting."
As well as the shop, Paul and his team can also take items from the showroom to the homes of its clients to carry out no obligation demonstrations and assessments.
Jay-Care also carried out repairs and maintenance on items such as stairlifts, scooters, rise & recline chairs regardless of whether it was purchased from Jay-Care.
The mobility shop, which operates across the North, also has contracts with the NHS, care homes and charities.
Paul said: "We have a huge amount of repeat business off our clients. Our customers know that we are honest, reliable and always try find the best solution to each customer's individual needs."
Paul, who is also head of Shop Mobility Burnley, is an avid Burnley FC supporter and also has advertising boards at Nelson FC.
The charitable man also does a lot of work with Pendleside Hospice. Earlier this year he ran the London marathon with wife Louise, who is an occupational therapist and also works at Jay-Care, and between them they raised over £6500!
Paul has worked his way up the ranks. He started on a YTS scheme while waiting to join the REME. However, he enjoyed the job so much he decided to continue in the mobility sector.
He said: "I started off at the bottom and it has been a journey. We have come a long way."